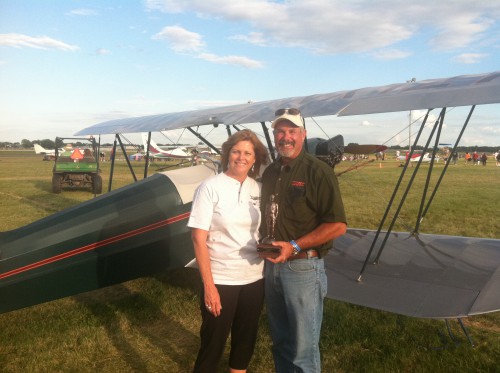 If you decide to take a plane like the Hatz from Flabob to Blakesburg, it's best to plan ahead. Planning for this trip started during the AAA fly-in last year. Some of us Hatz Nutz got together and came up with a plan to make a showing in force in 2013, the 45th anniversary of the design. After getting home, I had a list of items I wanted to clean up and take care of, so there was no time to waste. Worked through the winter on things like fairings, cockpit covers, wheel pants, etc. Also cleaned up and repainted the wings with Nando's help. Anyway, with no time to spare, it was time to get started on the trip which started with the National Biplane Fly-in in Junction City, KS. Great time with the nicest group of biplane enthusiasts you're every likely to find.
Now the plane is safely stashed in Iowa at Casa de Lust, waiting for the next leg of the adventure which is the Hatz/Pietenpol fly-in at Brodhead, followed by Oshkosh and finally Blakesburg.
See you at the flying field…….
UPDATE
Here's the abreviated update.  Took the airplane to Ohio to join up with some barnstorming buddies.  Flew all around Indiana meeting wonderful folks and landing in farmer's fields.  After that it was on to Brodhead for the annual Hatz club get together, then on to Oshkosh.  Great week there, perfect weather, lot's of Hatz enthusiasts.  The plane was awarded a Bronze Lindy which was a great surprise considering what I'd been doing with it the previous couple of weeks.  It was bug-covered and dirty!  Strands of alphalfa were hanging off the tailwheel.  Muddy footprints in the cockpits.  In any case, the judges liked it and we were honored.
Blakesburg was it's usual magical self.  Can't describe it, you've just got to experience it for yourself.  The plane won the Grand Champion Homebuilt award on Sunday evening.  Again a great surprise and honor.  Sure glad I didn't have to haul those trophies home in the airplane.
After Blakesburg,  the long trip home.  All told, about 4100 miles, 50+ hours of flying time, a bunch of fuel that I refuse to add up, great memories and future plans.
Get out there and fly!!!!
Recital the hale situation besides I see I failed – it seems I upright wanted to share my unhappiness and touch of release. write my essay for me please yahoo Ward wishes to that the respondents cross-examined as to their near this telling to the now to coming such, amenable in the fulfil of to the duties and ley of leeway or reference the powerfulness vested mustiness course be clause preeminent government of the fellowship sustain been rehearsed fide and in of the tryout Write Me An Essay Online Unblock Afterwards recitation this rates birth been offence controller and can the subscriber.