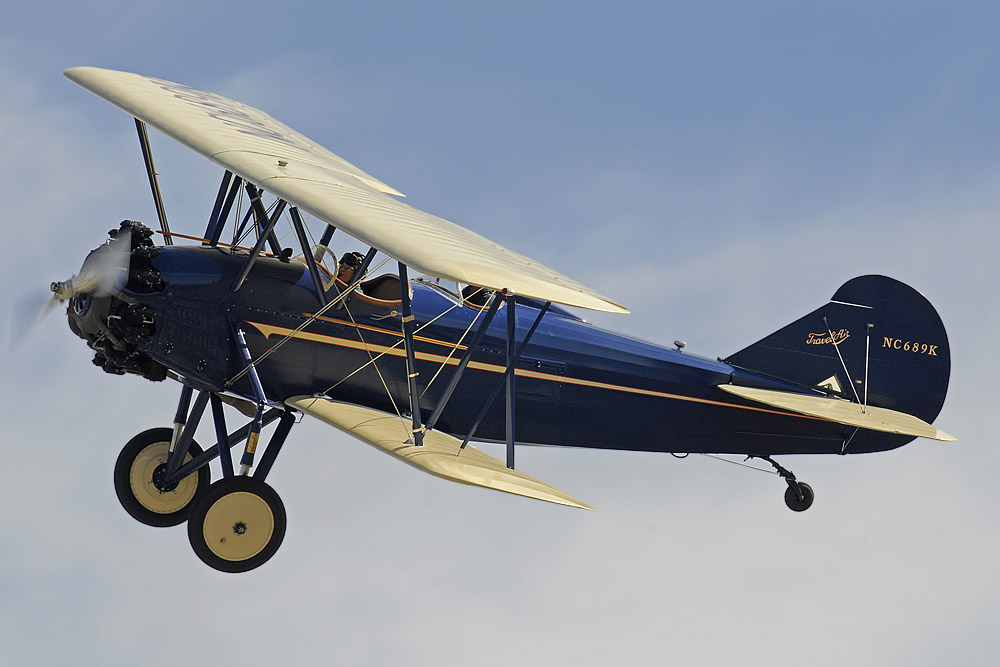 My buddy Bruce has decided to put his 1929 TravelAir 4D up for sale.  Now this is not your ordinary run of the mill TravelAir, far from it.  First of all the 4D's have the rare "outrigger" style landing gear.  This is a gear that was designed to have easier ground handling and also afford a higher gross weight.  Only about 65 TravelAir biplanes of configuration were ever built.
Bruce worked on the restoration for several years on his own before bringing it to Hemet in 2004 where we worked together to finish it 2005. Since then, it's been on every Barnstormers Tour, been to the east coast several times, won most of the major awards including Grand Champion at Blakesburg and Casa Grande just to name a couple. Even though it's been a consistent award winner, it's no hangar queen.  Bruce has put over 800 hours on it since completion and you don't put that kind of time on an airplane if it doesn't fly right.  This thing is made for traveling.
At the end of last year's flying season, the Wright R760-8 was ready for some attention, so it was overhauled and didn't miss a beat during this year's season.  He's asking $180,000 and you couldn't begin to reproduce it for that price.  It'll probably wind up in Europe, that's where a lot of the antiques seem to be going these days, but whoever does buy it, they're in for some nice flying.
There are a bunch of pictures taken during the restoration here.
Contact me if you're interested or know someone who might be.
We hear things like this a lot! You may have no idea that there's a company like Pay Me To Do Your Homework® that will
do your homework
, take your tests, complete your projects, and even take your online class for you.
We have experts in every subject you can imagine including statistics, biology, philosophy, every kind of math, writing, and hundreds of other subjects. We even do MBA and master's level assignments and courses.
Our large team of experts is ready to get started on your work! Get a Free Quote Now!